Regular price
Sale price
$25.99 USD
Unit price
per
Sale
Sold out
All season protection, from hot sand to icy snow. 
Musher's Secret was first conceived as a solution for cold weather damage to skin and paws. It is now used year-round as a protect-and-treat staple item that's safe for your pet AND won't stain floors or clothing after it's absorbed. 
SAFE & 100% NATURAL
This paw wax is made from a blend of several food-grade waxes and oils with Vitamin E. The ingredients are Non-Toxic, Non GMO and Gluten-Free. It contains no alcohol or petroleum, and does not contain nut, soy, or flax oils.
EXTENSIVE PROTECTION
Musher's Secret paw wax is an invisible boot, a soother, a conditioner, and a healer all wrapped into one. It is absorbed into the paw pads to soften, condition and heal, and creates a breathable, seamless barrier against rough terrain, including sandy / rocky trails, ice, snow, and surfaces treated with road salt, pesticides, fertilizers. This breathable barrier does not inhibit sweating.

It can do so much more than treat paw pads. Rub generously between toes in the winter to prevent painful snowballing. It's also suitable for use on hot spots, raw areas, or cuts. It's safe to use on the snout, ears, elbows, etc. And it isn't limited to dogs. This wax is safe and effective for many animals including dogs, cats, horses, chickens… and even you!
HOW TO USE IT
Apply a thin layer to paw pads 2-3 times a week and rub it in. 
To prevent snowballing, rub Musher's Secret into paw pads and up in between the pads.
While it is non-staining once absorbed, you do want to give it a few moments to sink in before coming in contact with clothing or furniture. It doesn't take long! It's similar to hand lotion - if you use too much or if you don't give your skin time to absorb the lotion, it will rub off a little.
Why We Love It

We see this paw wax recommended all the time in hiking with dogs groups, discussion boards, forums, and more. And it gets rave reviews. We love it, too. Just a little goes a long way. It has solved our dog's problems with cracked paws and greatly reduced the roughness she gets from extensive walking/hiking on various rough surfaces, such as concrete sidewalks, sand, mud, dried grass / brush. It's also a great help in our bitter Iowa winters as a barrier between her paws and the salty sidewalks. She always licks at it when we put it on, but enough of the wax stays in place to last throughout her walks. We often apply a thin layer after baths, too, just to keep her paw pads smooth, conditioned, and free of cracks.
Share
View full details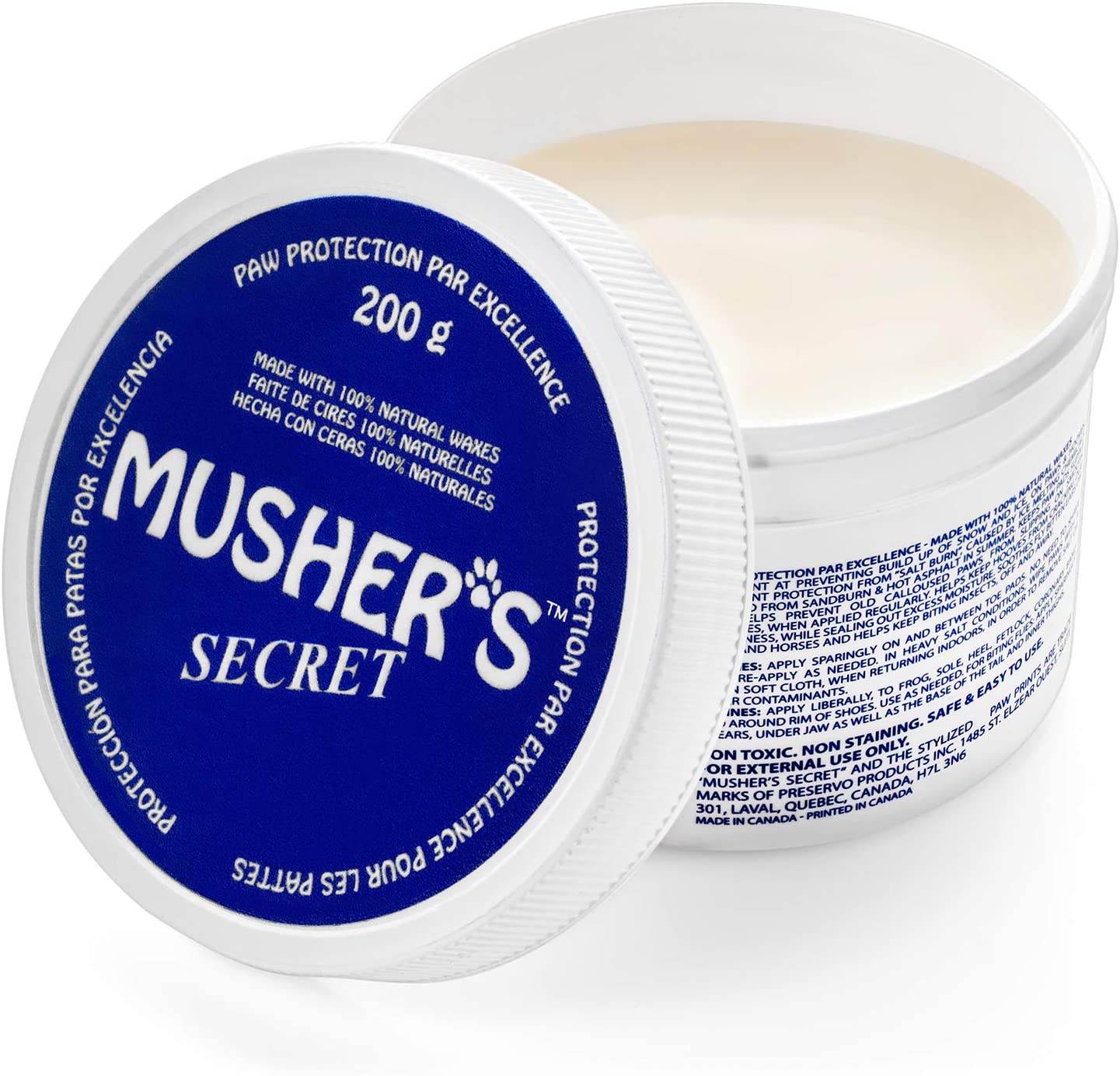 Our Guarantee

We carefully select the products in our store based on excellent quality, usefulness, durability, and aesthetics. We're dog owners (and dog lovers) and we rely on the gear in our store for our own hiking adventures and dog care! We're proud to back our products with a risk-free 30-day guarantee. If your item doesn't fit or isn't what you expected, returns are free and easy.

We want you to be excited about your purchase and confident in the quality of our gear. If you'd like, we're happy to chat on the phone or online to answer any questions you may have or even demo a product or help you choose the correct size. Just email us at hello@hikingdogco.com to set up a time and we'll be there!

As always, our email support is open 24/7/265 and we'll do everything we can to help you and make sure you have an excellent experience shopping with us. Don't hesitate to contact us for assistance!